---

WQ-3
6/90
---
---
How To Take A Water Sample
---
---
David B. Mengel and Cheri L. Janssen
Department of Agronomy
---
Water may appear clear and pure, but water from wells or other sources may contain dissolved minerals and other substances. Generally, Indiana's ground water provides a good supply of safe water that doesn't need much treatment. Indiana has approximately half a million private wells. If you are a private well owner, you need to test your water supply to insure the well supplies safe, high quality water.
With the advice of your county Health Department or Cooperative Extension office, decide what tests are needed for your water supply. The WQ bulletin "Why Test Your Water?", available at your extension office, may be helpful in determining which tests to run. After selecting the tests, choose a lab to test the samples. See WQ 1, "Water Testing Laboratories" for the location of labs that test water from private wells.
Steps required for taking a water sample will vary for different tests. Timeliness and cleanliness are important when collecting any water sample. Use the sterile collection bottles the lab sends you and not your own bottles to take a sample. Labs often will only accept samples taken in their collection bottles. Also complete all the forms the lab requires to process the sample.
A water sample needs to be submitted to the lab within 48 hours of collection. In some cases it must be kept cold prior to testing. Care must be taken to prevent anything but the water from contacting the inside of the bottle or the cap. Contaminants are often present in small amounts. Careless sampling prevents accurate test results.
General Procedures
For most water tests, follow these steps when collecting a sample:
Take the sample close to the pump, before the water goes through a treatment system.

Do not take the sample from a swing-type faucet.

Inspect the faucet for leaks. Select another faucet if there is leaking.

Remove the aerator.

Disinfect the faucet with bleach or a flame.

Run the water several minutes to clear the line.

Take the sample midstream.

Do not touch the sides of the collection bottle, the opening or inside of the cap.

If needed, store the sample in the refrigerator before taking to the lab.

Submit the sample within 48 hours of collection.

Transport the sample in a cooler or ship in an insulated container.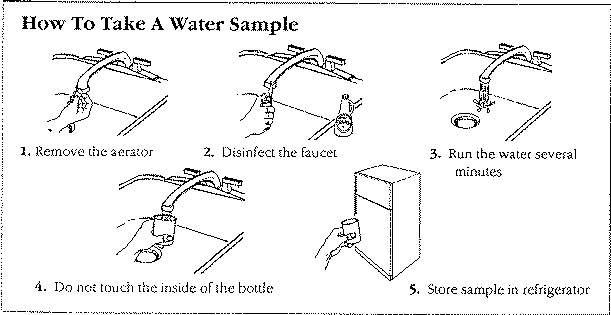 Some tests, such as lead, require the water stand in the pipes overnight before taking a sample. Again, follow the instructions provided by the lab or your Health Department.
Testing for Volatile Organic Chemicals
When collecting a sample to be tested for volatile organic chemicals these additional steps should be followed:
Reduce water flow to prevent excess air in the sample.

Remove all air from the collection bottle by filling it to almost overflowing.
Again, timeliness and cleanliness are extremely important to prevent false results. You may also want to refer to WQ bulletin "Interpreting Your Water Test Report Part Two: Organic Materials."
Testing for Pesticides
Samples for pesticide testing must be taken so they will not deteriorate or become contaminated before reaching the lab. Contact the lab testing the sample for complete instructions and a collection kit. Specific steps needed when testing for pesticides include:
Collect the sample only in the amber colored bottle provided. The dark glass prevents light from degrading the sample.

Cap the bottle with the Teflon coated lid. The special lid prevents false positive results caused by certain plastics.

Keep the sample refrigerated, preferably 35o to 38o, and submit it to the lab within 48 hours.

If shipping the sample, pack the sample in ice and ship in a styrofoam or other insulated container.
Test Results
After you receive your test results, WQ bulletins, "Interpreting Water Test Report Part One and Part Two" will help explain the test results. If test results show an unacceptable contamination level you should seek the advice of a professional. In most cases a second test will be taken before recommending possible treatments.
Test Records
Keep a record of your water tests. The record should include the date and the test results. Comparing recent test results to previous test results might point out problems you may not have noticed. Water test records are often needed for property sales. Records also support damage claims from outside contamination, such as from chemical spills or leaks.
For Further Information:
For further information on water testing or possible contamination suspected in your area, contact your local Health Department or county Cooperative Extension office. The following bulletins in the WQ series may also be helpful:
WQ 1 Bulletin "Water Testing Laboratories"
WQ 4 Bulletin "Why Test Your Water?"
WQ 5 Bulletin "Interpreting Your Water Test Report Part One: Inorganic Materials"
WQ Bulletin "Interpreting Your Water Test Report Part Two: Organic Materials"
Other Sources of Information:
Indiana Ground Water Protection Guidebook, Indiana Department of Environmental Management

Please report any unknown source of contamination or objectionable taste, odor or color in water from a private well to Indiana Department of Environmental Management (IDEM) 317/240-6216.
---
This material is based upon work supported by the U.S. Department of Agriculture, Extension Service, under special project number 89-EWQI-1-9202.
Cooperative Extension work in Agriculture and Home Economics, state of Indiana, Purdue University, and U.S. Department of Agriculture cooperating; H. A. Wadsworth, Director, West Lafayette, IN. Issued in furtherance of the acts of May 8 and June 30, 1914. The Cooperative Extension Service of Purdue University is an affirmative action/equal opportunity institution.