---

AE-104
Purdue University
Cooperative Extension Service
West Lafayette, IN 47907
---
---
PLANNING FARM SHOPS FOR WORK AND ENERGY EFFICIENCY


---
---
William H. Friday, Don D. Jones,
Samuel D. Parsons and Ronald M. Strickland
Extension Agricultural Engineers,
Purdue University


---
Contents
Introduction                                  
Some Pre-planning Considerations               
  Warm weather vs. year-round shops
  Building new vs. remodeling
Finding the Best Shop Site                      
Principles of Farm Shop Layout                  
  Repair/overhaul area
  Service area
  Tool and bench areas and parts storage
  Office area
  Restroom area
Sizing the Farm Shop                          
  Building length
  Building width
Farm Shop Doors                             
  Man-passage doors
  Machinery-access doors
  Door protection
Basic Construction Features                     
  Shop floor and drainage
  Entry and approach aprons
  Hoists
Farm Shop Environmental Control               
  Insulation
  Ventilation
  Heating
Farm Shop Utilities                             
  Electricity and lighting
  Water
  Fuel storage
Equipping the Farm Shop                       
  General equipment
  Welding and metal working tools and equipment
  Other hand tools
  Carpentry and woodworking tools
  Electrical tools
  Plumbing tools
Accident Prevention and Fire Safety              
  Minimizing human error
  Protecting yourself
  Maintaining safe working conditions
  First aid and fire safety preparedness
Summary                                    
  Related publications

An energy-efficient machinery maintenance shop is a necessity on the modern farm. It provides a place for the daily servicing and periodic repair and overhaul of machinery, for initial assembly of equipment, and for the modification of equipment to fit specific farming needs. A well-planned, well-equipped shop encourages a farmer to practice on-going preventive maintenance on his equipment, which not only extends its useful life, but also reduces the chances of costly downtime during field operations.
The farm shop also serves as a place for repairing or modifying the equipment needed in livestock operations, and for working on the family car, farm trucks, recreation vehicle or even hobby projects.
The purpose of this publication is to present guidelines for locating, laying out, constructing, environmentally-controlling and equipping a farm shop. Hopefully, the result will be an efficient, properly-sized shop providing safe as well as comfortable working conditions to meet your family and farm enterprise needs for years to come.
SOME PRE-PLANNING CONSIDERATIONS
Warm Weather Vs. Year-Round Shops
Shops located in the corner of a machinery storage building with no wall separation from the storage area (Figure 1) generally are not heated and,therefore, are used only during favorable weather. This type of shop, rather common on smaller farms, is classified as a warm weather shop, since minimal insulation, ventilation or heat is provided.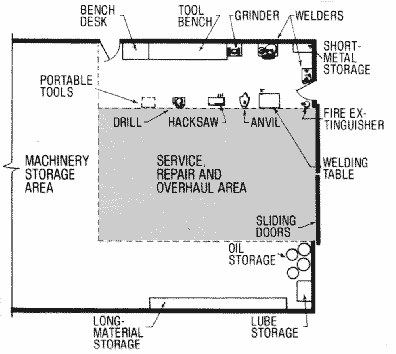 Figure 1. Suggested layout of a warm weather shop.
Shops that have environmental control features especially heating to allow for maintenance and repair during the winter, are classified as year-round shops. This type of shop may be a separate building or be located in the same structure as machinery storage but physically separated from the storage area by a partition wall. That is, it's a self-contained unit, designed exclusively for use as a shop.
The major emphasis in this publication will be on year-round shops. However, much of the discussion is equally applicable to warm weather shops.
Building New Vs. Remodeling
Many older shops are remodeled garages, corn cribs or other farm buildings. Often they are not well-suited to today's large farm equipment. In fact, any shop constructed more than 10 years ago is probably too small, unless it was built with unusual foresight.
Because of limited machine-access door size, most existing farm structures cannot be converted to modern farm shops, or at least not economically. Therefore, most farmers should think in terms of building new shop facilities instead of remodeling present farm buildings.
FINDING THE BEST SHOP SITE
A farmer is apt to go in and out of his shop more times than any other building on the farmstead except the house. Therefore, the shop should be located for convenient access from the home, the machinery storage and the main farm traffic routes.
The ideal location is 150 feet or so behind or to one side of the farm home, which is usually far enough away to protect the living area from noise and large-vehicle traffic, but close enough for security. A shop constructed too close to the house may be convenient for nighttime use, but it crowds the family living space, detracts from the aesthetics of the farm home setting and increases the fire hazard threat. Large farm shops and machinery buildings can `overwhelm' a farm home as well as obstruct the view from the home.
Try to locate the shop just off the farm court near the main flow of machinery and people (Figure 2). It should be near the machinery storage or overnight equipment parking area to facilitate servicing. While a shop located in one end of a machinery storage building may give convenient access to stored equipment, a separate shop building makes future expansion easier for both the shop and the storage.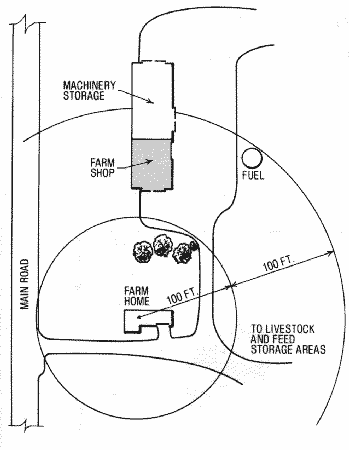 Figure 2. The shop should be convenient to the farm home and to vehicle traffic. The circular zones, 100 feet apart, show how the shop fits into the rest of the farmstead.
Because of the high value of shop tools, security should be a major consideration in site selection. Yard lights help, but the best solution is for the shop to be accessible only from a lane which passes directly by the farm home. If secondary access roads are necessary or already there, consider using an electric eye or other device to warn of approaching traffic.
Since the large access doors will usually be left open in summer, locate shop entries so that valuable tools and equipment are not visible to passersby on the main road. And if possible, face those openings away from prevailing winds (which come out of the west in Indiana) to minimize the possibility of wind damage to the large doors.
As would apply to any newly-constructed building, locate the shop (or shop-machinery storage) on high ground with good drainage. Floor drains should have a surface (above-ground) outlet for convenient servicing in the event of plugging. Plan the floor to be at least 12 inches above the existing grade to insure good drainage away from the shop.
PRINCIPLES OF FARM SHOP LAYOUT
The major functions performed in the shop are: (1) repairs, overhauls or any other major mechanical work, including annual preventive maintenance and reconditioning activities; and (2) routine servicing and maintenance, including such things as oil changes, lubrication and minor adjustments.
For larger shops, separate areas are suggested for repair and service, with repair done in the larger bay and routine servicing in the smaller bay. On smaller farms, both service and repair may be done in the same bay.
Consider as your basic floor plan the layout shown in Figure 3, with modification for your particular needs. Arrange the workbench and tool areas around the repair/overhaul bay. The tool areas should be flexible, both to accommodate large power tools and to provide space for implements which `fold out.' There should also be storage space for nuts, bolts and repair parts, plus office space for service, repair and supply inventory records as well as for equipment manuals and plans.
Following is a closer look at each section of a complete farm shop.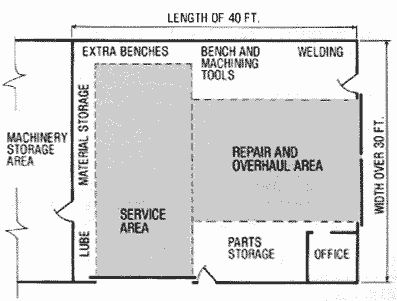 Figure 3. Basic farm shop floor plan, showing relative locations of repair and service bays and other functional work areas.
Repair/Overhaul Area
The repair/overhaul area should be large and well-lighted. Determine its size by the length and width of the largest piece of equipment to be repaired (Table 1). If implements need to have a tractor attached during repair, the work area can extend into the service bay to accommodate the extra length (see Figure 3). As already mentioned,extra-wide fold-out machinery can also overlap into the tool areas along the sides of the bay.
Table 1. Recommended Farm Shop Repair/Overhaul Area Dimensions to Accommodate Various Size Equipment.

     Machinery matched   Repair area-
      to planter size    Width Length
---------------------------------------
                          ft.    ft.
    Less than 4-row     12-14    24
   4-row, 38"             16     24*
   6-row, 30"             20     28*
   8-row, 30"             24     32
  12-row, 30"             24**   32
----------------------------------------
*Self-propelled combines may exceed this length.
** Additional width required for told-out equipment.

Service Area
The service area is where most of the day-to-day shop activity takes place during busy field-work periods. Oil, grease, air and water should be located near the entry door, so that servicing can be done inside or outside on the approach apron.
The service area is convenient for short-term vehicle storage-for the farm pickup, a tractor for snow removal or a feed truck. It also is a place where emergency work can be done when the repair bay is tied up.
Tool and Bench Areas and Parts Storage
Perhaps the greatest weakness of most farm shops is the lack of an organized arrangement of hand and power tools which would permit repairs to be done efficiently and safely. Specific areas should be designated for welding, machining and lubrication. In addition, shops should have areas designated for carpentry, plumbing, and electrical work activity, tools and supplies. Figure 4 shows efficient work area arrangements for four different size farm shops; Table 2 gives the recommended dimensions for these work areas shown in Figure 4.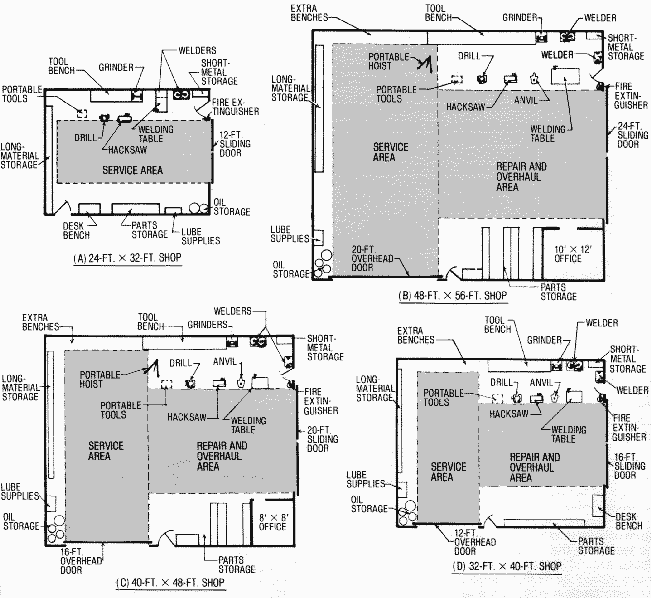 Figure 4. Shop layouts for various-sized buildings can be planned using the basic floor plan in Figure 3.
The general planning concept presented in the figure calls for 3-foot-high work benches located along the wall, with the large, free-standing power tools placed around the perimeter of the repair bay. For shops wider than 32 feet, plan for a work area of 8-12 feet wide on both sides of the repair bay, and for an area of about 4 feet along the service bay wall. For smaller shops (Figure 4a), which use somewhat smaller power tools, a 6-foot perimeter work area may be sufficient.
Regardless of shop size, anchor the benches and tools securely to the wall. But don't fasten tools to the floor along the perimeter of work bays; this allows added flexibility to accommodate various sizes of equipment.
The welding area should be a minimum of 10 feet long and 8-12 feet wide, depending on the size of the welding equipment. Provide space for an oxy-acetylene welder, arc welder, grinder and anvil, as well as storage for short metal pieces and welding rods. The welding table should have a surface-mounted vise, be at least 6 inches out from the wall and as far as possible from the lube area to reduce fire hazard Use 5/8-inch exterior grade plywood wall liner in the welding area.
The machining area contains the cutting and drilling tools and associated bench space. It should be 8-24 feet long and 8-12 feet wide, depending on tool size. Locate this area next to the welding area so that the grinder, anvil and welding table are available for both work functions.
The machining area can be used to store the roll-about tool boxes, hoists and movable tools like bearing presses when not in use. These items can then be moved when the area is needed for machining operations or to accommodate wide, fold-out farm equipment.
The work areas for carpentry, plumbing and electrical work should have a wall-mounted bench at least 8 feet long. The tools used for each of these functions should be wall-mounted or stored on shelves or in drawers for convenient retrieval. Line the walls with 5/8-inch exterior plywood or 3/4-inch particle board to a height of at least 8 feet to hang tools. The carpentry areas should not be located near the electrical and welding areas, because dust can cause equipment deterioration and fire problems.
The lubrication area is generally in a corner next to the service bay entry. Locate oil, lube equipment and supply storage along the service bay wall. Space for three barrels permits one for truck- and car-viscosity oil, one for tractor-viscosity oil and one for waste oil. More complex oil storages can be wall mounted in an elevated location using gravity flow discharge and pump filling.
Table 2. Welding, Bench and Office Space Recommendations for Farm Shops.


                     Welding   Bench
     Shop size        area     length   Office space
____________________________________________________
                       ft.       ft.       ft.
---------------------------------------------------------
  24 x 32 (Fig. 4a)   6 x 8*      8      Bench**
  32 x 40 (Fig. 4d)   8 x 10     12      Bench**
  40 x 48 (Fig. 4c)  10 x 10     16     8 x 8(encl.)
  48 x 56 (Fig. 4b)  12 x 12     24    10 x 12(encl.)
---------------------------------------------------------
  *   Portable welding table stored against the wall and moved
  into open area when in use.
  **  This is a small bench or desk located near the walk door
  entry to the shop.

The lubrication area is generally about 8 feet long and includes space for tire service equipment and supplies. If the shop is attached to a machinery storage unit, extra lube supplies can be kept in the machinery storage.
Wall-mount the air compressor near the service bay entry to save floor space and to make air available to equipment parked on the approach apron. If noise is a concern, it is sometimes possible to locate the compressor portion of the air supply unit either in an attached machinery storage or in the shop attic.
The parts bins and nut, bolt and screw storage areas occupy the remaining shop space. For greatest flexibility, make these units free-standing. Consider locating overflow inventories of supplies and parts in the machinery storage building, restocking the parts bin in the shop as needed.
Storage of long material can be arranged along the service bay wall. Wall-mounted racks 12-18 inches wide and at least 20 feet long provide room for metal, pipe and lumber storage.
Office Area
All shops should have a convenient location for storing repair and service records and machinery manuals. This can be a small, enclosed room in one corner of the shop or, in a small shop merely a section of the work bench. Larger offices are needed on some farms for employee conferences and to serve as a communication headquarters.
Offices larger than 10 by 12 feet should be attached, single-story additions rather than located within the shop. Using the space over the office for storing other than lightweight and seldom-used parts requires an expensive, heavy-duty ceiling frame to support storage bins and shelves. This cannot be justified in most cases.
Figure 5 illustrates some arrangement alternatives for various sizes of farm shop offices.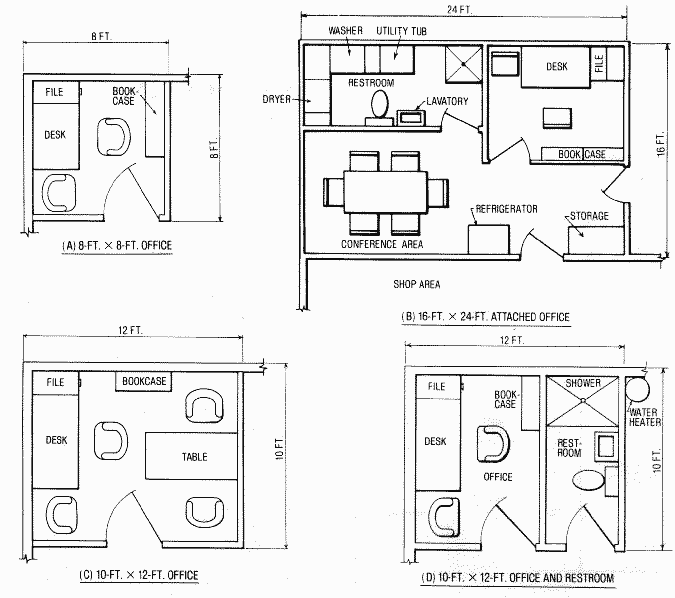 Figure 5. Several office arrangements to fit the individual needs of the farm operation.
Restroom Area
Many farms, especially those which hire full-time or seasonal labor, provide a small restroom in the shop, usually adjacent to or within the office enclosure (see Figures 5b and 5d). Although an added expense, especially because of the water heater and septic system required for lavatory and toilet, such a facility improves working conditions and provides a convenient cleanup area for workers. A shower, laundry facilities and clothes storage are also desirable for farms which use off-farm labor.
As a minimum, a lavatory should be available in the shop for cleanup and safety purposes. A frost-free hydrant and drain may be sufficient in smaller shops.
SIZING THE FARM SHOP
The farm shop must be large enough to accommodate not only the equipment on hand today but that anticipated for tomorrow. Therefore, carefully consider what you might be purchasing over the next several years--e.g., a larger horsepower tractor or combine with a bigger head.
Remember, it is usually impossible to enlarge a farm shop economically. Thus, if your needs outgrow the present shop, a new one may well be the best solution.
Table 3. Recommended Farm Shop Length to Accommodate Various Size Equipment.

Machinery matched to planter size   Length
---------------------------------------------
                                     ft.

    Less than 4-row                  32
      4-row, 38"                     40
      6-row, 30"                     48
      8-row, 30"                     56
     12-row, 30"                     56
    Other equipment
      4-WD tractor with plow         56
      Semi-trailer with tractor      64
----------------------------------------------

Building Length
Shop length depends on the length of the equipment to be repaired and how much space you want for convenience and work at the front and rear. Table 3 shows total shop length recommended to accommodate various pieces of farm machinery.
A separate service bay in the shop plan need not add to the length of the shop, because dual use of the space enables extra-long equipment to be extended into the service bay during repair. Table 3 refers to overall shop length--i.e., repair bay length plus service bay width plus 4 feet as service and storage space.
Building Width
Minimum building width (with repair bay entry shown in the endwall as in Figure 3) should be twice the equipment-passage door width. This provides support for sliding doors as well as room for work areas on each side of the repair bay.
If building width exceeds 50 teet, locate the repair bay entry in the sidewall instead of the endwall (Figure 6). This keeps the work areas around the perimeter from becoming too large and maintains work and space efficiency. (The arrangement in Figure 6 is merely a `flip-flop' of that in Figure 3, which means the shop layout principles discussed earlier are still applicable.)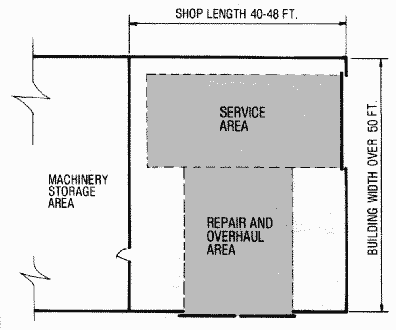 Figure 6. Shop floor plan showing recommended locations of repair and service bays in buildings wider than 50 feet.
FARM SHOP DOORS
Both man-passage doors and machinery-access doors are needed; and they should be insulated if the shop is heated.
Man-Passage Doors
Locating 3-foot-wide passage doors next to each machinery-access door is not only convenient, but prevents heat loss that would otherwise result from having to open the large doors in cold weather. Also, in combination shop-storage buildings, locate a passage door access between the two sections.
In small shops with only one machinery-access door, plan for a man-passage door at the opposite end, both to serve as a fire exit and to improve summer ventilation (see Figure 4a). Attached offices should also have an outside entry door for convenient access (see Figure 5b).
Machinery-Access Doors
The sizes of these doors are related directly to machinery size. For equipment on a modern grain farm, 13-15 feet of vertical clearance is usually needed. Cabs, exhaust stacks and add-on bin extensions, however, may require more clearance. Table 4 gives recommended repair bay door dimensions for various sizes of equipment.
Table 4. Recommended Farm Shop Repair Bay Door Dimensions to Accommodate Various Size Equipment.

                          Repair bay door
                         -----------------
    Machinery matched 
      to planter size     Width   Height
-----------------------------------------
                           ft.    ft.
------------------------------------------
  Less than 4-row         12-14   12
   4-row, 38"              16     13
   6-row, 30"              20     14
   8-row, 30"              24     15
  12-row, 30"              32*    16
------------------------------------------
*Only 24 feet required for fold-up or end-trucked equipment.

The service bay entry door need not be as large as the repair bay door and, thus, is not as difficult to open and close. However, there may be more traffic to this area; so consider a mechanically-operated overhead door. Width of the service door is often set, somewhat arbitrarily, at 4 feet less than the repair bay entry door. Its height is usually determined by the sidewall framing and girder size, but typically is about 1 foot lower than the endwall entry height.
Because the repair bay is entered less frequently than the service bay, plan to use a less costly sliding door rather than an overhead door. Endwall sliding doors should be no wider than half the shop width. This leaves about the right amount of space on each side of the repair bay for benches and tools. For example, a 20-foot sliding door for a building 40 feet wide permits a 10-foot wide work area on each side of the repair bay.
When possible, locate machinery-access doors away from prevailing winds to minimize wind damage and heat losses (both because of low insulation level compared to sidewalls and because of increased air infiltration). With modern door framing systems, however, structural damage due to the wind should not be an overriding consideration when locating the shop doors.
Provide adequate maneuvering space immediately outside the shop doors for turning and positioning machinery to enter the shop. Plan on a minimum of 40 feet of clearance in front of entry doors, with 60 feet for semi-trailers and long,tractor-drawn machinery.
Door Protection
Protect all machinery-access doors both inside and outside with vertical, concrete-filled metal stand-pipes (at least 3 inches in diameter and 4 feet high), embedded in concrete 12 inches away from the door-frame.
BASIC CONSTRUCTION FEATURES
Shop Floor and Drainage
Use 4-6 inches of compacted sand and pea gravel as a base before pouring the shop floor. Low- and moderate-clay content soils should not be used as fill unless compacted or allowed to settle in place several months. High-clay soils do not make a stable fill and should be avoided.
A 5-inch-thick concrete floor will have sufficient strength for all but exceptionally heavy machinery. If the floor slab is to be less than 5 inches, reinforce with 6 x 6-10/10 wire mesh.
Because oil spills and carried-in snow and rain are likely in the repair and service areas, drainage should be provided in both places. It may be to a central drain in each work area or sloped one-way at 1/10-inch per foot toward the entry door.
Drainage to a long, narrow, centrally-located slotted floor drain means less overall variation in floor elevation and eliminates the problem of door freezing that can occur with one-way slopes. A floor drain with an oil and sludge trap performs well, provided the trap is properly constructed and cleaned out periodically (Figure 7).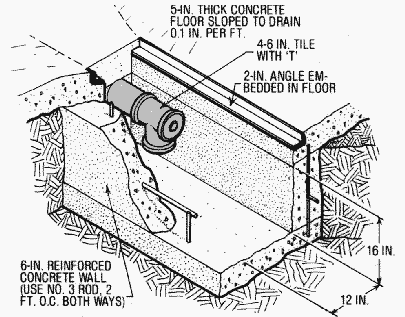 Figure 7. Central floor drain with oil and grease trap for use in both repair and service bays.
Grate openings over the drains must be wide enough not to plug with dirt, rust and grease from the shop floor yet be strong enough to support heavy farm equipment. The drain coverings shown in Figure 8 are straightforward to build and should meet these requirements.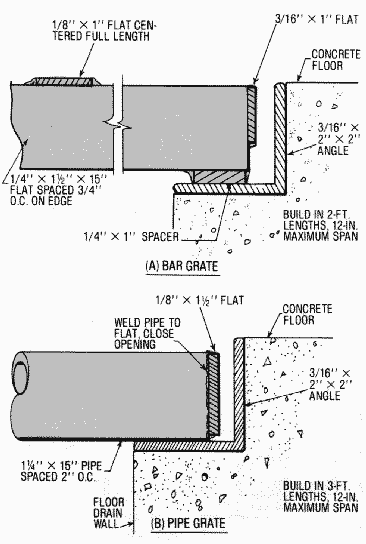 Figure 8. Grate coverings designed to span 12-inch-wide floor drains.
Entry and Approach Aprons
A concrete entry apron with a 1 1/2-inch raised shoulder should be provided at each machinery-access door. It should be the width of the door and extend 2 feet inside and 3 feet outside the door opening (Figure 9). Make the apron 5-6 inches thick and reinforced with No. 3 rebars. With sliding doors, place a metal wedge in the center of the apron to force the doors tight against the shoulder when closing. This seals out cold drafts as well as prevents wind damage to the door. A center wedge is not required for overhead doors.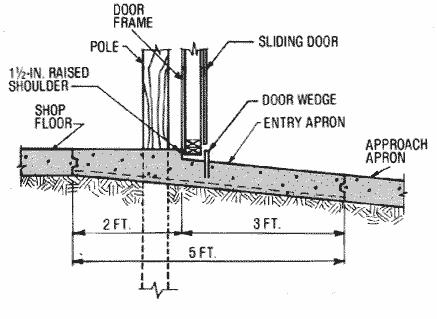 Figure 9: Cross-section of a machinery-access door entry apron.
An approach apron, 4 feet wider than the door width and extending 16 feet out from the door, provides a smooth surface to park machinery for servicing, emergency repairs and clean up (Figure 10). The preferred approach apron material is 4-inch-thick concrete, but well-compacted gravel 4-6 inches thick will also work. The apron should slope away from the building a minimum of 1/8 inch per foot (1/4 inch per foot for gravel) to provide drainage.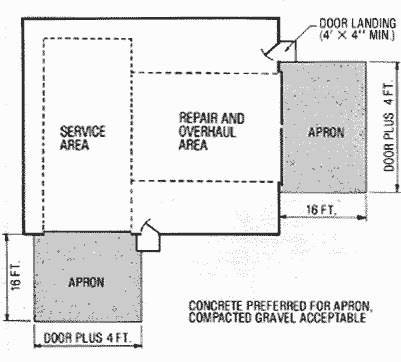 Figure 10. Location and dimension of approach aprons outside machinery-access doors.
Hoists
Some type of hoisting mechanism is desirable for equipment lifting, handling and repair. Our recommendation is a portable floor hoist (Figure 11), which eliminates the extra framing required by ceiling-mounted hoists, is more maneuverable and allows more space flexibility.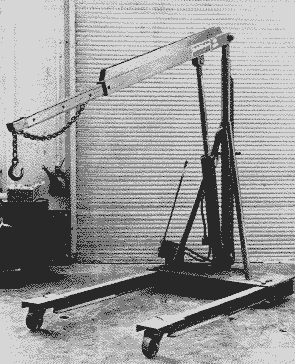 Figure 11. Portable or "rolling" floor hoists are very useful to lift vehicles, engines, etc., and can be used anywhere in the shop (photo).
The framing for single-point and trolley-mounted hoists depends on the truss span and weight to be lifted. Single-point ceiling hoists are not very versatile. Trolley-hoist units, while more versatile, are considerably more expensive than portable floor units.
FARM SHOP ENVIRONMENT
Facets of environmental control that must be planned for the shop include insulation, ventilation and heating.
Insulation
A warm-weather shop needs just enough insulation in the ceiling or roof to provide some temperature relief in summer and minimize condensation in winter. A heated shop, on the other hand, should be well insulated, including foundation, sidewalls and ceiling. (Insulating the ceiling takes 15 percent less insulation and gives 15 percent better heat loss protection than insulating the roof area.)
Insulate to a level of R=13 in sidewalls and R=20 in the ceiling. The insulation material should be covered with a fire-resistant lining on the inside wall. Exterior plywood makes a good liner, while sheet metal or plasterboard are satisfactory in areas not subject to physical damage.
Insulating the perimeter of the building foundation is recommended in heated shops to make the floor warmer around work benches and more comfortable for winter use. (See Purdue Extension Publication AE- 95, "Insulation of Livestock and Other Farm Buildings," for methods of adding insulation to farm shops.)
Ventilation
Ventilation is needed to remove smoke and fumes. Most important is a wall-mounted exhaust fan with about 1,000 cfm capacity in the welding area. Although exhaust hoods are more effective in removing welding fumes, they are also more expensive and difficult to work around. When the fan is operating, a door or window opened slightly (preferably one across the room from the fan) will supply fresh air to increase the fan's effectiveness.
If a lot of engine work is anticipated, consider using a permanent wall-or ceiling-mounted flexible duct, with its own exhaust fan, which can be attached directly to the engine's exhaust pipe to remove fumes as they are produced.
In summer, provide a crossflow of air to cool the work space by opening both the endwall and sidewall doors.
Heating
Since major repairs are often made during the winter, most farmers want some heat in their shops. A temperature range of 45-60F is usually adequate.
Ceiling-mounted, forced air space heaters work well because the furnace blast helps keep hot air from stagnating near the ceiling. Size the furnace at about 50 BTUs per square foot of shop floor area. Use a minimum size of 70,000 BTUs per hour if the shop is fan-ventilated (at the 1000-cfm rate).
If unvented fuel-fired heaters are used, a uniformly-distributed minimum ventilation rate of 4 cfm per 1000-BTU-per-hour furnace capacity is essential to prevent buildup of poisonous carbon monoxide. Operating the 1000-cfm welding fan with a 10 minute timer set at 2 1/2 minutes should provide sufficient ventilation for the unvented heater.
Radiant heaters are more expensive than space heaters, but they are also more efficient to operate and have many advantages for farm shop applications. Radiant heating systems are very efficient at low shop temperatures, because the radiation heat warms the surfaces it strikes, providing comfortable equipment and surface temperatures. Also, using radiant heat prevents excessive heat boss when large entry doors are opened.
Radiant heating systems can provide about the same comfort level as forced air heaters at a 10F lower shop temperature. Since ceiling-mounted radiant heaters are less expensive to install and more dependable than floor heat systems, they are preferred for shop use. Size radiant heat systems at 40 BTUs per hour per square foot of shop area.
If floor heat is used, place heat cables (15 watts per square foot) or water pipes (50 BTUs per square foot) in the work bench area and extend the heating unit into the repair or service bay about 4 feet. Heated concrete slabs should be reinforced with 6 x 6-10/10 wire mesh to prevent damage from heavy vehicle traffic.
FARM SHOP UTILITIES
Electricity and water are the principle shop utilities, but fuel storage must also be considered.
Electricity and Lighting
Electricity is vital to any shop, not only for power tools but for lighting, ventilation, etc. Size of the electrical service entrance needed depends on the size of shop, but provide 200 amps and 240 volts as a minimum. Figure 12 is a typical electrical plan illustrating convenience outlet and lighting needs.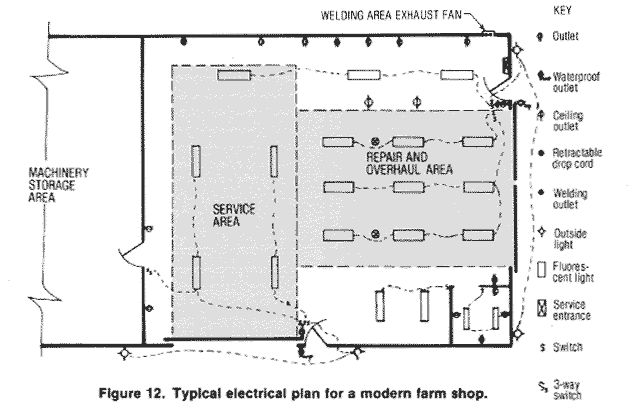 Figure 12. Typical electrical plan for a modern farm shop.
Convenience outlets. Ideally these should be located: (1) along the work bench (spaced uniformly), (2) at every location of a motor-driven tool and (3) at 10-foot intervals around the rest of the shop perimeter (4 feet above the floor). Use either a plug mold with outlets 1 foot apart, or place one duplex outlet every 4 feet along the workbench.
Use overhead retractable drop feeds for large, free-standing power tools and as convenience outlets around the perimeter of the repair and service work bays. Locate weatherproof duplex outlets on the outside wall of the shop near each machinery-access door.
All 120-volt circuits should be 12 gauge, 2-wire (with ground) with 20-amp-rated fixtures. Plan that each 120-volt circuit handles no more than 1800 watts as a continuous load and no two successive perimeter outlets are on the same circuit.
Ground fault interrupters (GFIs) are recommended on all 20-amp convenience outlet circuits and are required for outside receptacles. The GFIs trips the circuit if a `leak' is detected, before a short can harm the operator. They are available as portable receptacle units, circuit breakers and as replacements for permanent duplex outlets.
Shop lighting. Because ceiling heights vary, shop lighting is difficult to specify here. However, the recommended lighting requirement is 20-foot-candles at floor level. That's a minimum of 1/2-watt fluorescent or 2-watts incandescent for each square foot of floor area in a typical shop.
Provide additional task lighting over the work bench, using 48-inch, double tube-type fluorescent fixtures mounted 50 inches above the bench. Mount these lights away from the wall-preferably over the front one-third of the bench.
If planning to work on equipment outdoors after dark, use a 400-watt mercury refractor, 25 feet high, for every 2000 square feet of work area. For lighting entrances to the shop and machinery storage, use a 150-watt weatherproof flood lamp located 8 feet or so away from the entry doors. Place lights on one or both sides rather than directly over the door to keep out flying insects.
Yard lighting. A minimum of 200-watt mercury or other high-intensity discharge light, 25 feet high, for every 8000 square feet is recommended. Around drives and walkways, increase lamp size to 400 watts. Space lights no more than 125 feet apart for best lighting conditions. A single pole light plus lights mounted on the exterior of the shop wall are sufficient for most farm courtyards.
Water. For fire protection, equipment clean-up and general convenience, place a frost-free hydrant on each approach apron. A hydrant is also needed inside the shop for radiator servicing and for washing down the service and repair bay floors.
If a restroom is not provided, locate a wash basin near the entrance to the shop office to facilitate clean-up.
Fuel Storage
Fuel storage tanks should be located in the general vicinity of both the main farm traffic flow and the shop. Above-ground fuel tanks should be at least 40 feet from any building, while below-ground tanks (with at least 2 feet of soil cover) can be located within 1 foot of any building, including the shop. If the tank is located so it will be driven over, it must have 3 feet of soil cover.
Fuel storage next to the shop is very convenient but contributes to traffic congestion in front of the shop and could pose a fire hazard.
EQUIPPING THE FARM SHOP
Equipping a shop can range from `very elaborate' to `bare minimum,' depending on the farmer's interests and finances. Sophisticated repair and maintenance jobs require sophisticated shop tools and equipment. Following is the minimum recommended list of items that should be on hand in the modern farm shop.
General
1. Portable crane--2 ton.
2. Short chassis jack--1/2 ton.
3. Adjustable safety stands--5 ton.
5. Air compressor--two stage, 2-5 hp, 60-gallon tank minimum, 150-200 PSIG, 25 and 50 foot 1/2 inch hoses.
6. Tire pressure gauge--regular and liquid.
7. Slide hammer and attachments.
8. Gear puller--assorted sizes with attachments.
Welding and Metal Working
1. Arc welder--225 amp minimum, 25-foot cables, safety helmet, assorted welding clamps, chipping hammer and wire brush.
2. Oxy-acetylene welder--two-stage, portable cart, safety goggles, 50-foot hose, one-way valves.
S. Bench grinder--8 inch, 3/4-1 hp.
6. Disk grinder--7 inch, 1 hp.
7. Portable power hacksaw--5 inches round, 10 inch flat capacity.
8. Drill press--1/2 inch, 1/2 hp, 5-speed minimum.
9. Straight shank twist drill bits--1/16 to 1/2 inch by 1/64 inch.
10. Electric drills--1/4, 3/8 and 1/2 inch variable speed, reversible.
11. Punches and chisels--assorted sizes.
12. "C" clamps--3 to 12 inch.
13. Wrecking and pry bars.
14. Tap and die set--NC. and N.F., 1/4 to 1 inch.
15. Bolt cutter--30 x 1/2 inch capacity.
16. Metal files--assorted types and sizes.
Other Hand Tools
1. Impact wrench and sockets--3/8, 1/2 and 3/4 inch.
2. Adjustable wrenches--6, 10 and 16 inch.
3. Vice grips--7 and 10 inch.
4. Open end wrenches--1/4 to 1 5/8 inch.
5. Combination wrenches--1/4 to 1 5/16 inch.
6. Box end wrenches--1/4 to 1 1/2 inch.
7. Socket sets--deep and standard, 6 and 12 pt, 1/4, 3/8, 1/2, 3/4 inch.
8. Torque wrench--0 to 150 foot-pound, 1/2inch.
9. Set screw wrenches--.050 to 5/16 inch.
10. Screwdrivers--standard and phillips, assorted sizes.
11. Hammers--assorted types and sizes.
12. Pliers--assorted types and sizes.
13. Mallets--rubber and rawhide.
Carpentry and Wood Working
1. Circular saw--1/2-2 hp, 7 1/4 inch, assorted blades.
2. Sabre saw--1/4 hp, variable speed, assorted blades.
3. Hand saws--rip, crosscut, keyhole, back.
4. Brace, auger bits--1/4 - 1 inch, expansive bit 7/8-3 inch.
5. Wood chisels--assorted sizes.
6. Wood files--assorted sizes.
7. Squares--rafter, try, combination.
9. Steel tape--10, 25 and 100 foot.
Electrical
2. Electrical connection repair kit.
3. Timing light--volt-ohm ammeter.
5. Feeler gauges--.001 to .040.
Plumbing
1. Pipe wrenches--8, 10 and 14 inch.
ACCIDENT PREVENTION AND FIRE SAFETY
Shop accidents don't just happen; they are caused. Approximately 90 percent of all shop accidents are caused by `human error,' the remaining 10 percent by unsafe working conditions. Therefore, it's essential that you develop safe working habits, be alert to unsafe working conditions and take the necessary precautions listed here to avoid accidents.
Minimizing Human Errors
* Know how to use shop tools properly.
* Provide proper instruction and supervision to new workers, until they become skilled in the use of shop equipment.
* When performing tedious tasks. take frequent breaks, fatigue is one of the main causes of accidents.
* Don't use power tools when you are emotionally upset; too often the result is damage to equipment or an accident.
Protecting Yourself
* Remove jewelry and loose clothing before starting to work.
* Wear eye protection when operating hand or power equipment, handling caustics or acids and using welders.
* Protect hearing from loud blasts and from long-term noises.
* Protect your respiratory system from fumes resulting from engine exhausts, paints and glues, chemicals and welding.
Maintaining Safe Working Conditions
* Clean up all oil spills.
* Remove objects from traffic areas.
* Check all movable objects, and make sure equipment is secure when elevated with jack stands and hoists.
* Use the right tool and the right-sized tool for the job; this is made easier when the tool storage area is in the right place and the tools are organized so they can be readily retrieved.
* Provide adequate lighting over work areas as per the recommendations mentioned earlier.
* Keep a clean, orderly work space by returning tools to their proper location and disposing of greasy rags and other waste materials promptly.
First Aid and Fire Safety Preparedness
* Provide a portable kit near the lavatory to apply first aid to minor cuts, abrasions and burns.
* Keep an eye-wash bottle (clean, fresh water) near the building entry and/or near where caustic chemicals are used.
* Place emergency phone numbers near shop and home phones.
* Place multi-purpose, dry chemical, tri-class A, B, C fire extinguishers in conspicuous and accessible places around the shop, such as near entrance doors, welding areas, etc.; this is the only one satisfactory for all common types of shop fires.
* Never use water on grease or oil fires; water can actually cause such fires to spread.
* In case of fire, first call the fire department, then try to put it out.
SUMMARY
Farm shops should be well planned and energy efficient so that preventive maintenance for farm machinery can be carried out in a comfortable environment. The basic shop planning concept presented in this publication calls for work areas located around the perimeter of repair and service bays.
For efficiency, work areas which share common tools and supplies should be close together. Provision should also be made for storage of needed materials and parts, as well as office space for records and repair manuals.
With today's sophisticated equipment and the high cost of down-time, farmers must be well prepared to keep machinery operational. And a well-planned farm shop is the key.
Related Publications and Building Plans
Single copies of the following Purdue Extension Publications are available to Indiana residents from their county Cooperative Extension Services offices or by writing to CES Mailing Room, AGAD Building, Purdue University, West Lafayette, IN 47907:
AE-88, "Solar Heating for Home, Farm and Small Business"
AE-89, "Solar Energy Heat Storage for Home, Farm and Small Business"
AE-95, "Insulating Livestock and Other Farm Buildings"
AE-99, "Solar Heat System for Confinement Livestock Housing"
AE-102, "Wind and Snow Control for the Farmstead"
The following building plans are available at the price indicated from the Farm Building Plan Service, Agricultural Engineering Department, Purdue University, West Lafayette, Indiana 47907.

    P-81 171  "Solar Active Wall Collector/Storage" ($1 .00).
    P-81 172  "Solar Heat Rock Storage" ($1 .00).
    MWPS-74143"40'X104' Machine Shed with 40'x40' Shop" ($2.00).
    MWPS-741 46 "48'x96' Machine Shed with 48'x 40' Shop" ($2.00).
    MWPS-74147"60'X96' Machine Shed with 60'x 40' Shop" ($2.00).
    MWPS-74148"30'X72' Machine Shed with 30'x 40' Shop" ($2.00).
    MWPS-74149"56'X88' 40' Clearspan Machine Shed with 16' Offset" ($2.00).
    MWPS-74150"30'X40' Shop with 15'x 13' End Door" ($2.00).
    MWPS-741 51 "40'X48' Shop with 16'x 13' Side Door and 20'x 14' End Door" ($2.00).
    MWPS-741 52 "48'X56' Shop with 20'x 13' Side Door and 24'x 14' End Door" ($2.00).
    MWPS-74153"32'X40' Shop with 1 2'x 12' Side Door and 16' x 13' End Door" ($2.00).
    MWPS-81 901 "48' Solar Machine Shed and Shop" ($2.00).

---
New 9/80
Cooperative Extension work in Agriculture and Home Economics, State of Indiana, Purdue University and U.S. Department of Agriculture cooperating: H.A. Wadsworth, Director, West Lafayette, IN. Issued in furtherance of the acts of May 8 and June 30, 1914. The Cooperative Extension Service of Purdue University is an equal opportunity/equal access institution.