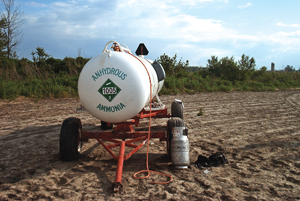 Crimes do occur, and your goal and focus should be on preventing them. The following recommendations involve your actions relative to suspicious activities, crimes, and crime scenes:
Keep employees up-to-date on any increased criminal activity within the community and in surrounding areas, and instruct them to report suspicious people or occurrences to you immediately. Notify them when you are expecting suppliers or visitors to the farm so that they won't mistake legitimate individuals for intruders.
Keep a record of all observations and reports of suspicious activities; that is, log things that seem unusual, and date all entries. If an incident were to occur, the information could prove valuable to the police in apprehending and convicting those responsible.
Report suspicious persons and vehicles to local law enforcement officials. Be aware of unfamiliar vehicles (not just vehicles bearing out-of-state license plates), including rentals, as they could be a prelude to criminal activity. Write license numbers in your logbook, if possible, but do not expose yourself to risk in getting them. Write down what you see and, if possible, take photographs or videotape the scene.
Walk around buildings and along fence lines to look for signs of trespassing and unusual activity. Report anything suspicious to the police.
Should you come across evidence of trespass or criminal or suspicious activity, do not touch or disturb anything at the scene. If you locate a marijuana patch, for example, the entire area may be "booby-trapped." Call the police and protect the scene from others until the police arrive.
Should you observe a crime in progress, do not attempt to intervene. Call the police immediately and report all relevant information.
When reporting a crime or suspicious activity to the police, report WHAT you saw, WHO you saw (description of persons involved), WHEN (date and time) you saw it, WHERE you saw it, and HOW the perpetrators might have accessed the area.
After you contact the police, call your insurance representative to report any damage or loss resulting from the incident. Photograph damage to your property and take steps to prevent further loss. Be aware that insurance companies require timely reporting of theft and vandalism. Failure to report promptly can lead to needless delays or denial of claims.
If your farm security is breached by an act of theft or vandalism, take immediate steps to reestablish precautionary systems: change locks, reprogram access codes, establish new activity patterns, relocate movable assets, etc.
Call your attorney.